Cosmetic lid margin tattoo (or cosmetic blepharopigmentation) is increasingly purveyed in Australia by specialist beauty salons and is marketed as a form of permanent make-up. Like other forms of modern tattoo art, it is applied using an electric needle tip which oscillates at 50–150 cycles per second. Each cycle embeds a small amount of pigment into the dermis. Typically, it is performed after application of a topical local anaesthetic.
In this case, tattoo pigment was inadvertently embedded directly into the cornea. This resulted in severe conjunctivitis and a large epithelial defect. In this image, taken 1 month after the injury, the anterior corneal stroma remains stippled with tattoo pigment.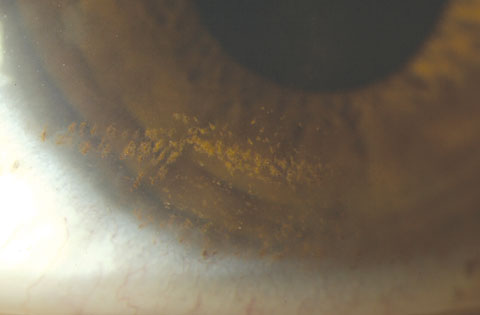 Publication of your online response is subject to the Medical Journal of Australia's editorial discretion. You will be notified by email within five working days should your response be accepted.