A 55-year-old woman was admitted to hospital with a 1-year history of recurrent haemoptysis. A chest radiograph showed a well defined, rounded left hilar mass with surrounding air-space shadowing (Box, A). Contrast-enhanced computed tomography revealed a thrombosed aneurysm of the left main pulmonary artery that extended into its branches, with surrounding lung consolidation (Box, B). Echocardiography excluded any valvular lesions or shunt. Tests for tuberculosis and HIV were negative, and antinuclear antibody levels were not raised. The aneurysm was thought to be idiopathic. It was surgically resected, and the postoperative course was uneventful.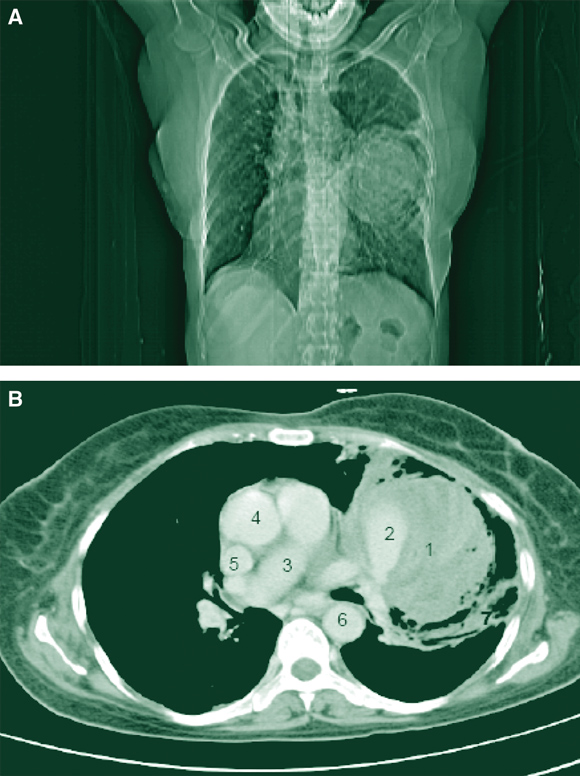 A: Chest radiograph showing a left hilar mass.
B: Contrast-enhanced computed tomography of the thorax showing an aneurysm of the left pulmonary artery extending distally into its branches with evidence of curvilinear thrombus (1), patent vessels (left pulmonary artery [2], right pulmonary artery [3], ascending aorta [4], superior vena cava [5] and descending aorta [6]), and consolidation of lung parenchyma adjoining the thrombus, with pleural thickening (7).
Publication of your online response is subject to the Medical Journal of Australia's editorial discretion. You will be notified by email within five working days should your response be accepted.