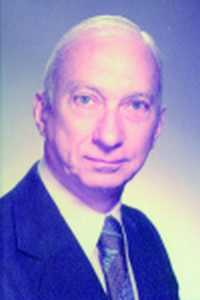 Charles Marshall died peacefully in his sleep at his home in Seattle on 12 November 2005, at the age of 93. He was born on 13 July 1912 in Cowell, South Australia, but his early years were spent with his parents in Scotland and England. In 1929, he returned to Australia and settled in Sydney, where he worked in a pharmacy for 2 years. This led to an interest in medicine, which he studied at the University of Sydney from 1934 to 1940.
During World War II, from 1940 to 1946, he served with the Royal Australian Army Medical Corps in various locations in the Middle East and Australia. After 2 years at the Kanematsu Memorial Institute of Pathology, Charlie began his career as a pathologist at Sydney Hospital. Between 1950 and 1952, he did a postgraduate course in pathology at London University. He then returned to Sydney Hospital, where he spent several years working in bacteriology and anatomical pathology, and also worked as a Teaching Fellow at the University of Sydney from 1953 to 1955.
Charlie was Associate Professor of Pathology at Dalhousie University in Halifax, Canada, from 1955 to 1957, then took up a position as Pathologist (the first ever appointed) at Group Health Cooperative of Puget Sound in Seattle, Washington, where he worked for the next 20 years. He also served as Assistant Professor of Pathology at the University of Washington during that time. He was a Fellow of the Royal College of Pathologists of Australasia and the College of American Pathologists, and a founding member and Fellow of the Royal College of Pathologists of England.
Charlie's published work included an essay on infectious hepatitis for which he was awarded a British Medical Association prize.1
Friends and colleagues will remember Charlie as an avid painter and musician, a kind and compassionate person, as well as a great friend to many whose lives he touched. He was a true gentleman at all times, with a wonderfully dry sense of humour. We will miss him greatly.
Charlie was married to his wife Thelma from 1941 until her death in 1978. He is survived by his daughter Carol, granddaughter Diana and three great-grandsons, all of Orange County, California.
1. Marshall CE. Infective hepatitis: its incidence and its sequelae. Med J Aust 1958; 1: 93-101.
Publication of your online response is subject to the Medical Journal of Australia's editorial discretion. You will be notified by email within five working days should your response be accepted.