Abstract
Palliative care teams have made an important contribution to improving the care of patients with incurable illnesses in Australian hospitals over the past 20 years.

Collocation of hospital-based palliative medicine specialists with other specialties allows communication and exchange of ideas on issues relevant to the medical care of such patients.

Shared management of complex cases maximises comprehension of patient distress and optimises the support provided during hospitalisation.

Tensions arising across the interface provide opportunities for both groups to improve the relief of suffering in the acute-care setting.

Palliative medicine in the private sector has some advantages, but specialists also face specific challenges, including the cost of certain drugs, access to the multidisciplinary team and reimbursement issues.
Although some terminally ill people die in hospices or at home (while receiving community palliative care), many still die in an acute-care hospital. This may be a result of patient preference, of sudden deterioration while in hospital, or the inability to manage at home when there is no access to a palliative care unit. To deal with this eventuality, many acute-care hospitals now provide a palliative care service.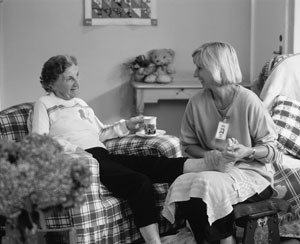 Palliative medicine specialists deliver their service in the acute-care hospital setting in various ways.1 Most services recognise that palliative care is best provided by a multidisciplinary team. In Australia's major teaching hospitals, the doctor in a palliative care team is often a salaried staff specialist who is based within the hospital.2 This specialist may come from a background of internal medicine, general practice, oncology, anaesthetics, surgery or another specialty. This diverse experience has been recognised by the establishment of the Chapter of Palliative Medicine within the Royal Australasian College of Physicians. As salaried medical staff of the hospital, palliative care specialists admit and manage patients under their own care, provide consultations on colleagues' patients and deliver ambulatory care services. They contribute to undergraduate and postgraduate teaching, carry out research, and serve on hospital committees. This involvement in the day-to-day life of the hospital provides a great opportunity for them to influence the quality of care of patients with advanced, incurable disease.
As the career of palliative medicine specialist based in an acute-care hospital is uncommon outside Australia, there has been little evaluation of the role and function of this type of practice in the peer-reviewed literature. Also, until recently, there has been less attention given to delivery of palliative care in acute-care hospitals than to development of designated inpatient units or home-care services.3
Boundaries of palliative medicine and other specialties
The palliative medicine specialist needs to be skilled in symptom control, decision making, care of the dying, management of treatment complications, communication, psychosocial care, and coordination of care.4 Integration of these skills into hospital practice has been shown to improve the care of terminally ill hospitalised patients.5,6 While a multidisciplinary, patient-centred approach is not unique to palliative care, and other specialists in the hospital are accomplished in many of these areas, the palliative medicine specialist brings a unique perspective to assessing and treating pain and other symptoms, and conveys clarity in ethical decision making for patients with advanced disease. Proficiency in symptom control, developed over many years in the hospice setting, has proven to be adaptable to patients in the acute-care setting.5,6
Palliative medicine specialists can also offer alternative approaches to aggressive or distressing therapies for people with life-threatening illness. Their support of patients, family and staff in decision making sometimes results in withdrawal or refusal of disease-controlling or life-prolonging treatment. They can ensure that appropriate referrals are made to community palliative care services or hospices, enable community-based patients to access specialised symptom-control and support services (eg, anaesthetics, psychiatry, rehabilitation medicine) and educate hospital staff in the culture and principles of palliative care. Refocusing the care of patients identified as being in the last hours or days of life is an area in which the palliative medicine specialist makes a specific contribution to hospital practice.7
Bridges between palliative medicine and other specialties
A unique feature of hospital-based (rather than hospice- or community-based) palliative medicine specialists is their collocation with acute-care specialists. This physical proximity promotes communication and exchange of ideas, creating a number of "bridges" between these groups.
The first bridge results from the consultation process. Whether the consultation involves giving simple advice (eg, on medication doses or referral to a domiciliary service) or dealing with more complex issues (eg, managing a patient who is still undergoing disease-specific treatment), the palliative medicine specialist is in a good position to heighten other specialists' awareness of palliative medicine approaches and encourage ethics-based dialogue. The World Health Organization's revised definition of palliative care8 and the US Institute of Medicine's "mixed management model" for patients with an eventually fatal illness acknowledge the need for this type of interface between palliative medicine and other specialties.
A second bridge arising from collocation is the professional relationships forged by sharing the burden of managing terminally ill patients. Palliative medicine specialists can support their colleagues as they validate the care being provided and become increasingly involved in the direct management of complex cases over many months. They may act as silent partners with other specialists, offering advice if patients are unwilling to accept direct palliative care contact. At times, providing a neutral sounding-board in clinical decision making can be another bridging function. The collegiality that is built through such exchanges may promote the wider acceptance of palliative care.
A third bridge created is pride in the institution and sharing of its goals. Along with other senior medical staff, the palliative medicine specialist in the acute-care setting aims to provide an effective clinical service of which the hospital and its employees can be proud.
Challenges and opportunities for palliative medicine practice in the acute-care setting
The history of the development of palliative care and palliative medicine in Australia is complex. Australian clinical academics and representatives of the "British hospice movement" both made contributions. The hospice movement was initiated in the mid-20th century to provide for the unmet needs of people dying within the mainstream healthcare system. Challenges, tensions, and also opportunities can be expected as palliative medicine becomes re-established in the acute-care hospital setting. Some of these issues are discussed below.
Palliative care in private hospitals
Good palliative care is provided in the private hospital setting in Australia, and the palliative medicine specialist can be well rewarded for working in this environment. Many hospitals make a philosophical commitment to the ideals of holistic care and employ liaison nurses and allied health professionals, encourage cooperation between specialists, welcome local general practitioners and community liaison nurses into their units, extend care to the home and train volunteers, in order to ensure optimal care for terminally ill patients.
Interactions between palliative medicine specialists and other specialists in private hospitals share many common features with interactions between their counterparts in the public sector. The smaller size of private hospitals may permit greater collegiality and friendship. However, providing a hospital-based palliative care service for acute-care patients in a private hospital does create several challenges that are not faced in public hospitals.
Palliative care patients in private hospitals are required to pay many extra expenses — for medications not included in the Pharmaceutical Benefits Scheme, as well as for radiological or surgical interventions, and fees for other specialists. At times this may have an impact on the care provided or result in significant financial strain on families. Prolonged hospital stays may be classified as "non-acute admissions" and the patient may be charged the equivalent of a nursing-home fee. The palliative medicine specialist may encounter patients who only want to see "their private doctor". Concerns over "ownership" of patients by private practice specialists may result in late or nonexistent referrals and difficulties in planning ongoing care. Not having junior doctors on site can be advantageous, as it allows specialists to have more intensive involvement with patients and their families, resulting in great intellectual and personal satisfaction. However, it also means that the burden of all paperwork and minor interventions (eg, intravenous canula insertions) falls to the one doctor. Lack of a comprehensive multidisciplinary team or a bereavement service creates an extra burden on the practitioner and requires novel approaches to care.
Income generation can be a problem for palliative medicine specialists who do not charge a "gap fee", and there is no reimbursement for bereavement follow-up visits. Specialists from a general practice background currently have no Commonwealth Medical Benefits Schedule item number to cover their type of practice.
Conclusion
Hospital-based palliative medicine presents many opportunities for its practitioners to interface with other specialties. The complexity of the work is intellectually stimulating and the relief of suffering in very sick patients in hospital is clinically challenging. Interaction with colleagues allows hospital-based palliative medicine specialists to make their contribution to patient management and stimulates the further evolution of palliative care.
Publication of your online response is subject to the Medical Journal of Australia's editorial discretion. You will be notified by email within five working days should your response be accepted.