MJA Open
MJA OPEN has served as an open access general medical journal suited to a general medical audience.
MJA OPEN online content has been subject to an article processing fee. Articles are peer reviewed, edited and published online. Its content has also featured in the print edition of the Medical Journal of Australia.
MJA OPEN is currently not accepting submissions.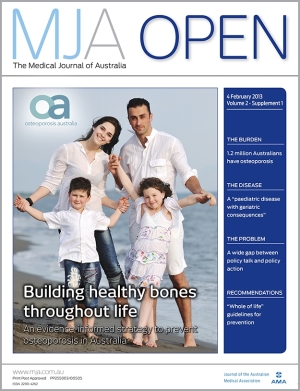 Building healthy bones throughout life: an evidence-informed strategy to prevent osteoporosis in Australia
Peter R Ebeling, Robin M Daly, Deborah A Kerr and Michael G Kimlin
MJA Open 2013; 2 Suppl 1: 1.